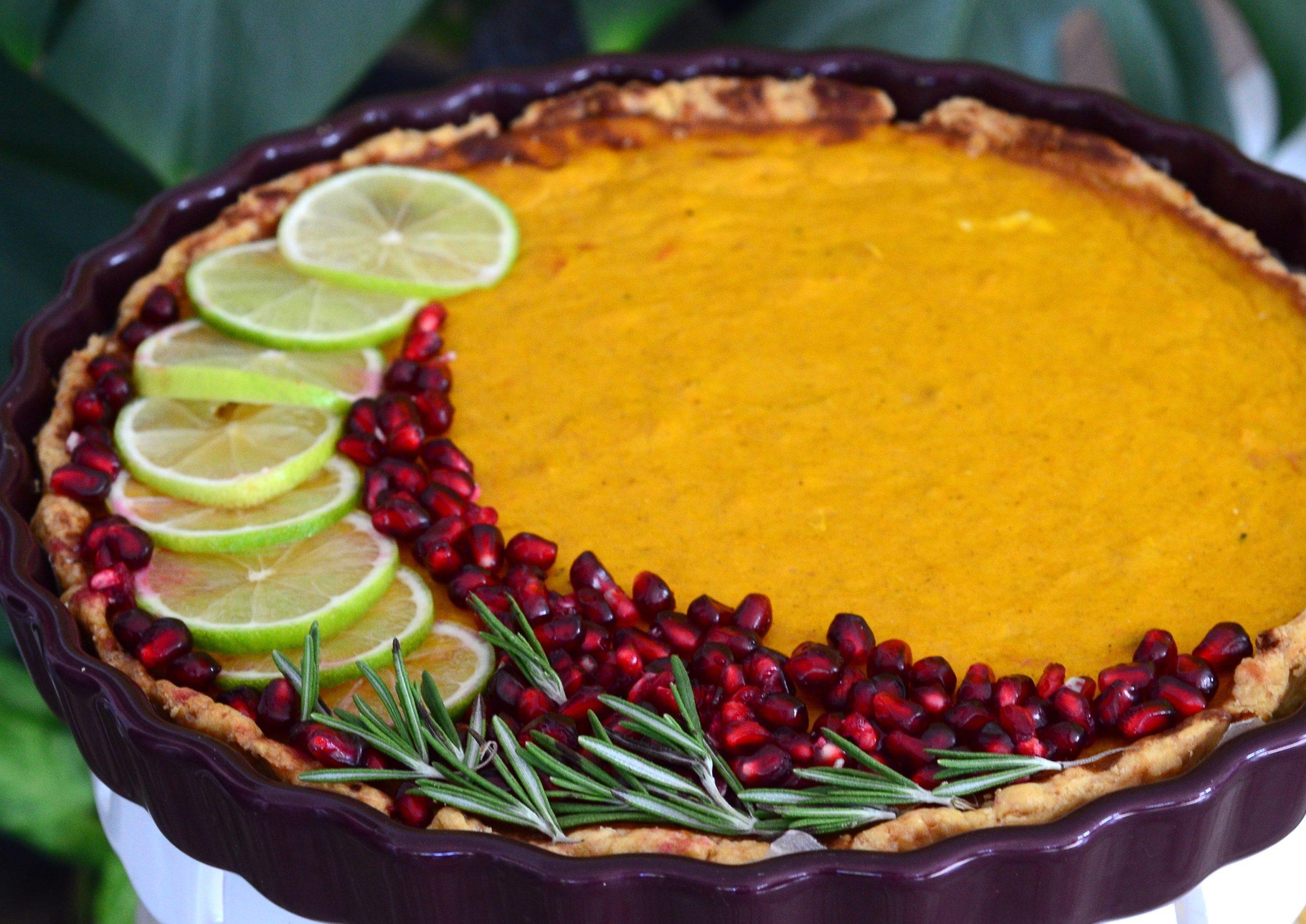 This delicious autumn tart is a beautiful combination of a delicate, tender pastry case and a sweet, flavorful pumpkin cream, decorated with softly sour pomegranate and lime. It is easy to make, once you have gathered all the ingredients, and you can save time by preparing the pastry well in advance, then keeping it in the fridge until ready to bake.  I prefer to make my own pumpkin puree instead of the canned option, but feel free to use canned if time is an issue.  Sometimes I cut the pumpkin in half, take out the seeds, brush some olive oil on it, then bake it, cut side down, for 45-55 minutes, at 180 degrees Celsius. Other times I peel it, cut it into small pieces, then vapor boil it until it has the right consistency to be easily mashed. When ready, I put the puree in jars and keep it for 2-3 days in the refrigerator. I use it this way for tarts,  puddings, oatmeal, or in pasta dishes.
I love autumnal colors and flavors, and this tart is definitely a keeper. Enjoy!
Pumpkin Pomegranate Tart

Print recipe
Ingrediente
Pastry
250g white flour (sieved)
50g powdered sugar (sieved)
125g unsalted butter (cold)
1 egg
1-2 tablespoon milk
1 organic orange (finely grated skin)
50g walnuts, lightly toasted, then grinded
1 tablespoon apricot preserve
Pumpkin cream
250g Philadelphia cream cheese
200g brown sugar
3 eggs
500g pumpkin puree
350ml condensed milk
1 teaspoon cinnamon
1/2 teaspoon allspice
1/4 teaspoon ginger powder
1/4 teaspoon grated nutmeg
Mod de preparare
| | |
| --- | --- |
| 1. | Mix flour, powder sugar and walnuts. Add the butter (cut in small cubes), then mix with your fingers until it becomes crumbly. |
| 2. | Add the egg, the milk and the orange peel, then mix a little. If over mixed, the batter becomes to elastic. |
| 3. | We shape it as a cylinder, then wrap it in plastic foil and refrigerate it for a couple of hours. |
| 4. | Butter up a tart form (approx 25 cm diameter). |
| 5. | Take the batter out of the fridge and cut it in rounds, then place these all over the tart form. Slightly press with your fingers in order to unite them and cover the entire surface, the walls and bottom of the tart form. Wrap it in foil and freeze it for 30 minutes. |
| 6. | Heat the oven at 180 degrees Celsius. |
| 7. | Take the form out of the freezer, prick the base of the pastry with a fork, put on top a sheet of baking paper and beans or rice, then bake it for 10 minutes. Remove the baking paper and the rice/beans, then bake for another 10 minutes. |
| 8. | Remove the pastry shell from the oven and let it cool. Mix the apricot preserve with 3 tablespoons of water, then brush the pastry with it. |
| 9. | Heat the oven again at 180 degrees Celsius. |
| 10. | Mix well the cream cheese, brown sugar, spices and a pinch of salt. Add the eggs, one by one, mixing well after each one. Add the pumpkin puree, the vanilla extract, and the condensed milk, then mix very well. |
| 11. | Pour the cream in the pastry shell, then bake until golden (25-30 minutes) |
| 12. | Serve the tart cold, or at room temperature, decorated with lime and pomegranate. Enjoy! |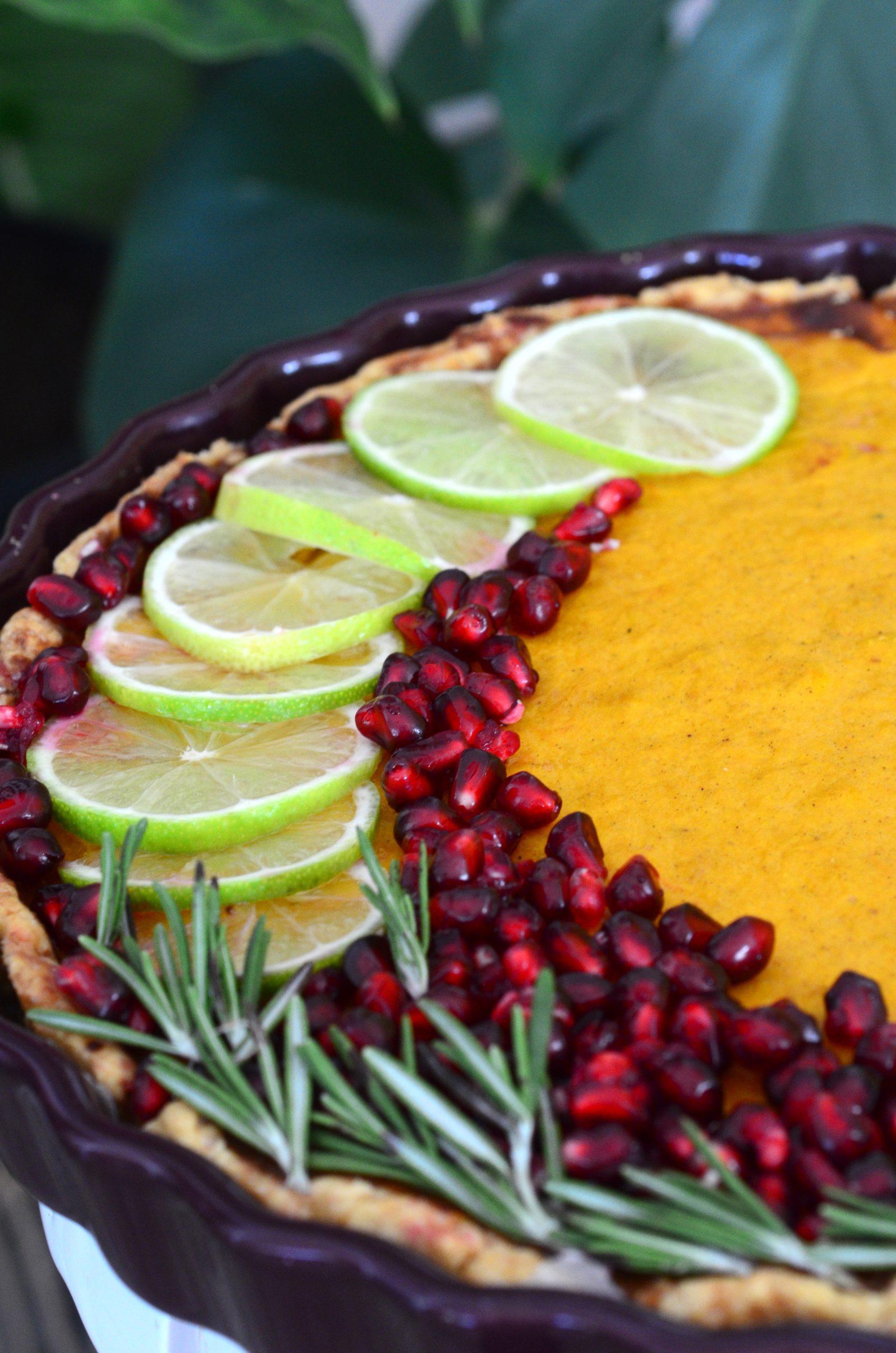 Inspiration: Pastry Jamie Oliver, pumpkin filling.