The sun is shining, finally, spring has arrived! And it came to my son's birthday party. Yesterday, I celebrated my beloved son's 7th birthday, 7 wonderful years of happiness and joy, a little person full of love, always cheerful and mischievous. My heart ♥ The party was perfect, "tailor-made," just as he wanted it: pirates theme, ship, magician, pirate and pirate girl, popcorn machine, cupcakes, trampoline, games, energy, and fun. In his letter of wishes for the party, he wrote in big letters "FUN", underlined it 10 times, and drew a lot of hearts around it. He wanted an electric guitar + speakers and a trampoline. Why? The scenario he had in mind was to practice his trampoline jumps for the moment when he, the famous rock star, would jump over the audience, singing on the guitar… This thought scared his guitar teacher a bit :)
After sending out the invitations, the confirmations started coming in, but only from the girls… one girl, two girls, three girls, when we got to 10, I started to panic :) So popular? I sighed with relief when all his friends showed up :) They all stayed outside, played, ran, and laughed. Did they eat?
What do you think kids eat at a party? From my observations:
1, 2, 3, far ahead of the others: Fun on bread! You don't even notice when you call them to eat.
4. Vanilla cupcakes
5. Chocolate cupcakes
6. Bolognese pasta
7. Popcorn
8. Mini schnitzels
After talking to the kids, we came to the following conclusion: "food is for adults. Cupcakes rock." The cupcake craze did not fade easily. Some of the parents, after secret whispers with their kids, also took cupcakes to see what the kids were raving about. As for the food, only the adults/grown-ups :) dared to approach the buffet or grill. OK, with 5-6 exceptions. My son was the most special and ate NOTHING!!! After the party ended, in the evening, he asked for all the Bolognese pasta.
Tired but happy, we closed the curtain. What do you think our little one said before closing his eyes? "I want another party!!! ♥ In the morning, again sunny. "Mom, today is pancake day!" OK, then let's make this the sunshine pancake day ♥ We love ricotta, poppyseed, and lemon pancakes. The best! Love my kids ♥ Lemon, ricotta & poppy pancakes: sunshine pancakes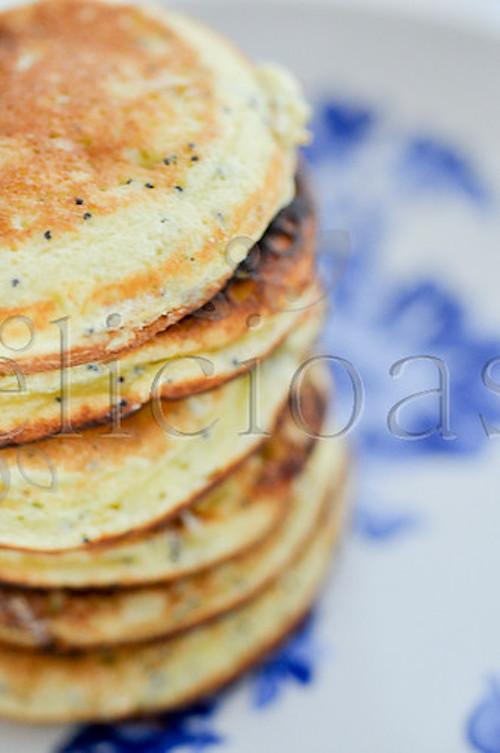 Ingredients for Lemon, ricotta, and poppyseeds Fluffy Pancakes
ricotta 250 g
55 g melted butter (at room temperature)
6 egg yolks
1 tsp vanilla
60 g flour
1 tsp baking powder
55 g sugar
1/4 tsp salt
grated zest of 2 lemons
1 tsp poppy seeds
6 egg whites, beaten into peaks
Mix the flour, baking powder, sugar, salt, poppy, and lemon zest. In another bowl, mix the ricotta, butter, egg yolks, and vanilla. With a silicone spatula, add the flour mixture and mix until well combined. Add a little of the egg white peaks at a time, mixing lightly until evenly combined.
Heat the pan, grease it with a little sunflower oil, and add the pancake batter; when bubbles start to appear through the batter, carefully flip the pancakes and let them cook until they're lightly browned. Remove them to a plate and enjoy with a touch of butter and a drizzle of maple syrup!
Yummy with butter and maple syrup.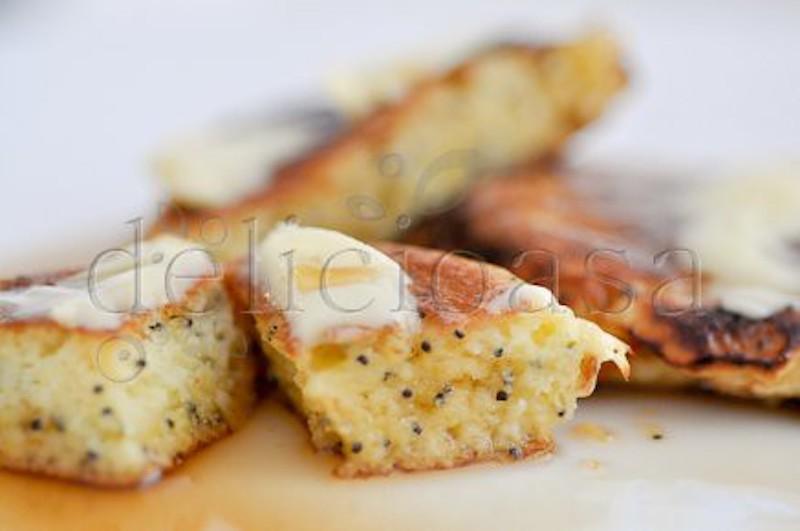 Enjoy!