How do you choose a recipe? What influences your choice? Is it the title, the ingredients, the photo, or the author? In my case, the picture and the feeling of "ingredients chemistry" I get when reading the recipe.  I choose with my eyes. I read the recipe and somehow know if and what I should change. I count on this feeling. It works.
A couple of days ago I was scrolling my Instagram feed when Diane Morisey's post caught my eye. Love at first sight.  Such gorgeous colors! Wow!
The day after my discovery, my husband reads my mind and buys a beautiful squash and a couple of pomegranates. The Universe is sending a message :) Sage, rosemary, and citrus thyme I still have in the garden. Autumn has been kind so far.
My herbs bring me infinite joy. The vast majority of the seedlings I bought in spring, at a flower fair in USAMV Bucharest. Gorgeous tarragon, citrus thyme, rosemary, sage, thyme, lavender, bay, and a variety of basil. Besides, I have Borago, (lambs ears) and hyssop, seedlings I bought 2 years ago from Legumim, a community garden in Bucharest. If boragao finds its right place, then it comes back every year, self-seeding. The leaves taste like cucumber and the flowers are perfect for salads and fermented drinks/lemonade. Can't wait for next year's crop! Hyssop grows in vigorous bushes and the blue flowers attract a lot of bees. I usually use them in cocktails, but I'll experiment more.
Sage is magnificent with its blue flowers and silver-green, velvety leaves.  I find the flavor very powerful, so I mainly use it in meat/poultry and pumpkin-based dishes. Sage infusions are also very good and healthy.  I prefer to store it frozen, not dried. I wash the leaves and dry them on paper towels, then freeze them in very small portions, just as I would use for cooking. I also freeze it in ice cube trays, thinly cut, and "drowned" in olive oil. Just add the sage ice cubes to the food.
My all-time favorite is the incredible citrus thyme, with its marbled yellow-green tiny leaves. Highly aromatic, I use it with almost everything I cook, from fish to salads. It brings me so much joy! It's just perfect!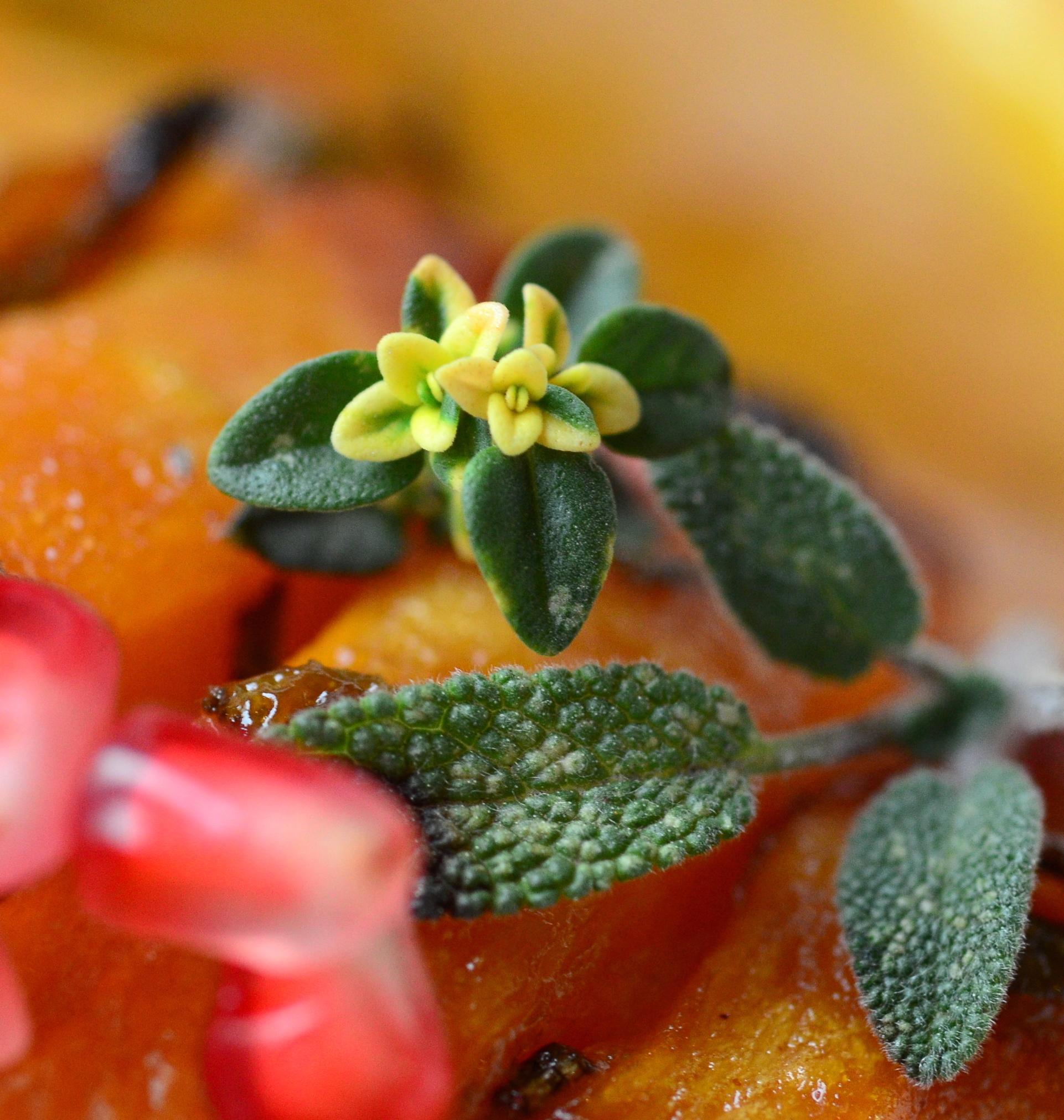 The issue with my herbs is that I love their shapes, textures, and colors so much, that I just want to see them, not to cut them, although I know that the more you cut them, the richer/denser they become. Same thing with the red sorrel, with its gorgeous red veins. Yes, I know it is healthy and yummy, but I have to see it. Eat them with my eyes only.
Let's get back to the recipe. Simple, delicious, spectacular! Honey & Dijon mustard glazed pumpkin with pomegranate. I hope you enjoy it!
Recipe:
Honey & Dijon mustard glazed roasted pumpkin

Print recipe
Ingrediente
1 butternut squash
3 tablespoons honey
2 teaspoons Dijon mustard
Optional: some walnuts or hazelnuts (lightly toasted and finely chopped)
1 teaspoon fresh sage (finely chopped, plus some leaves for decoration)
1 teaspoon fresh rosemary (finely chopped)
citrus thyme
1 pomegranate
Mod de preparare
| | |
| --- | --- |
| 1. | Wash the pumpkin, cut lengthwise in half, scoop out the seeds and peel the skin. |
| 2. | Put the pumpkin face down on a roasting tray. Cut thin horizontal slits on the surface, without cutting all the way through the other side. |
| 3. | Heat the oven at 180 degrees Celsius. |
| 4. | Bake the pumpkin for 30 minutes. |
| 5. | Meanwhile, mix well the honey, mustard, olive oil, herbs. |
| 6. | Take out the tray from the oven and brush well the pumpkin with 1/3 of the honey mixture. Season with salt and fresh pepper. Add 100 ml boiling water to the tray, then bake for another 20 minutes. Repeat these step 2 more times, but add more water only if it dries out. |
| 7. | When the pumpkin has a beautiful golden roasted colour, take it out of the oven, decorate it with fresh herbs and pomegranate and serve. |
| 8. | Option: Add toasted walnuts or hazelnuts. |
| 9. | Serve simple, with a green salad or with a risotto. |
| 10. | Enjoy! |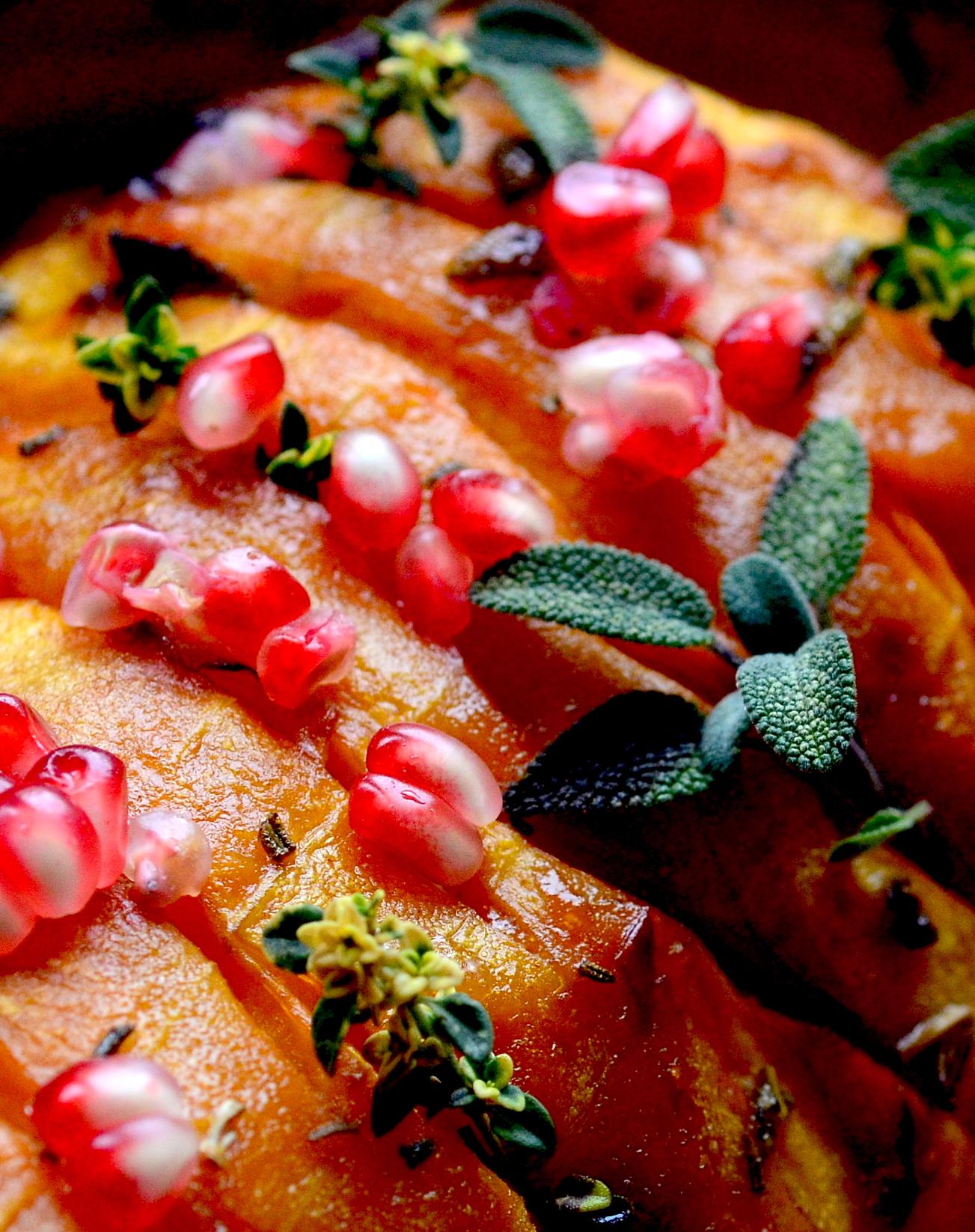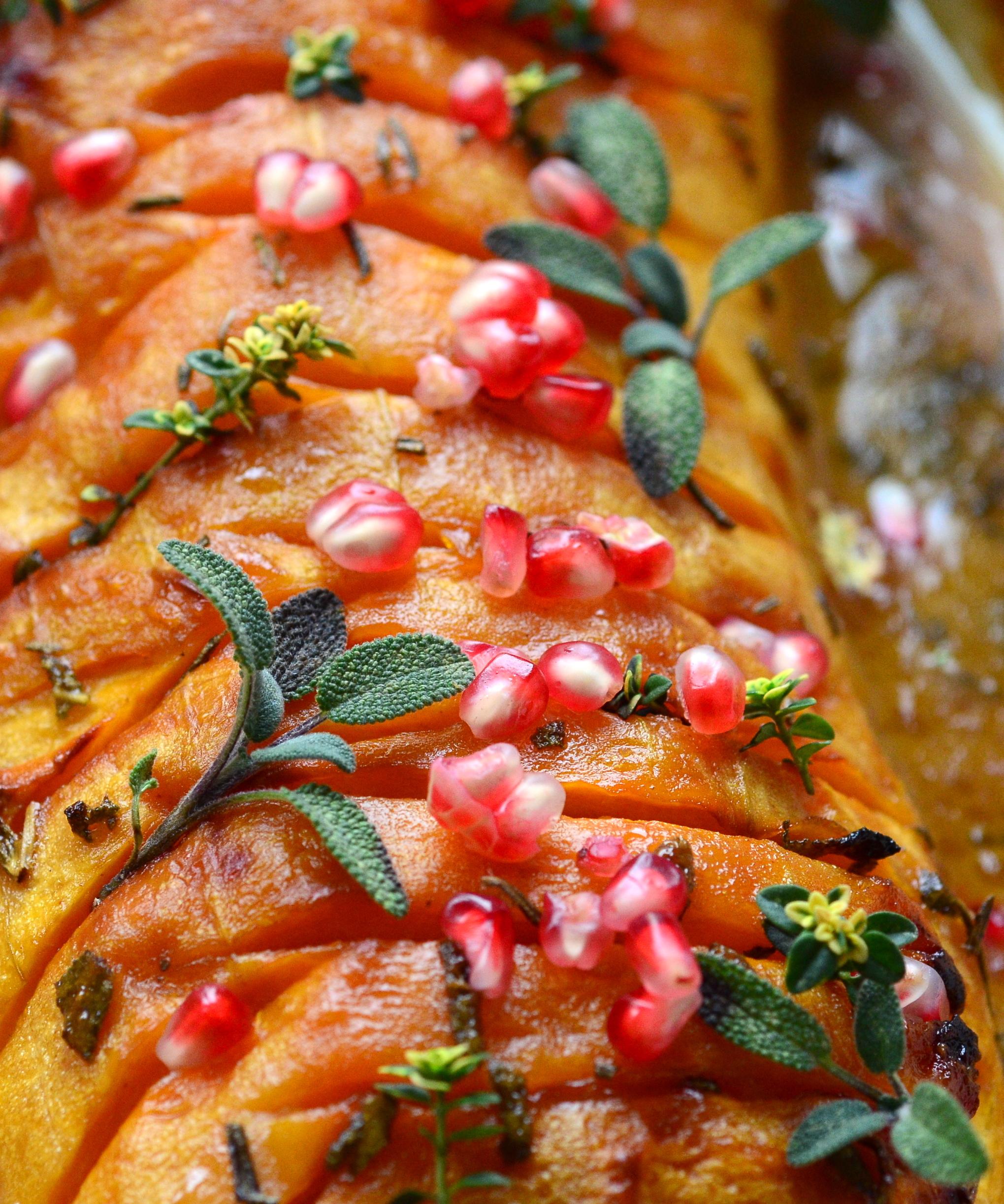 Enjoy!