Un file de somon, o mana de plante aromatice, 2 lamai si 1 lingurita de mustar… Delicios! Alaturi, salata verde, spanac sau sparanghel tras in unt cu lamaie, o garnitura fresh, usor acrisoara… Lejer, aromat, perfect :)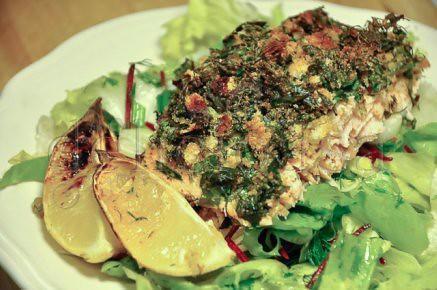 1 file somon
o legatura de patrunjel, taiat marunt
o legatura de marar, taiat marunt
cateva fire de tarhon verde, taiat marunt (aprox jumatate legatura)
5-6 felii de toast Mullino Bianco, sfaramate (crumbs), dar nu foarte fin
o lingurita de mustar
fleur de sel
piper proaspat macinat
1-2 linguri ulei de masline
2 lamai, taiate in 4
Spalam pestele si-l stergem bine cu hartie absorbanta. Incingem cuptorul la 220 grade C. Amestecam plantele aromatice, crumbs, uleiul de masline, sarea. Ungem pestele cu mustar si-l asezonam cu sare si piper.
Punem amestecul de ierburi peste peste, presand usor. Punem lamaile in tava, langa somon si le stropim cu putin ulei de masline. Introducem tava in cuptorul incins, aprox 15-20 minute.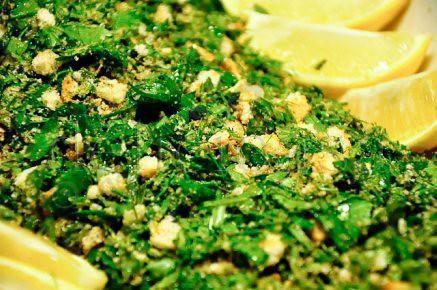 Mie nu-mi place somonul foarte bine facut, de aceea l-am tinut la cuptor 15 minute. Lamaile coapte pot fi stoarse peste somon, salata sau consumate ca garnitura acrisoara. Eventual,  decor :)
Delicios cu salata verde, orez cu unt si lamaie, legume sau spanac in unt si lamaie.  
Versiunea in limba engleza:
Take one salmon fillet, a handful of aromatic herbs, 2 lemons and some mustard… Delicious! A fresh side dish: green salad, spinach or asparagus with butter and lemon… Lovely tarragon  flavor…  
1 file salmon
one handful of parsley, finely cut + one handful of dill, finely cut + some green tarragon, finely cut + 5-6 toast pieces Mullino Bianco, transformed into thick crumbs
one teaspoon Dijon mustard
fleur de sel, freshly ground pepper
1-2 tablespoons olive oil
2 lemons, cut in 4
Wash the fish and dry it on a paper  towel. Heat the oven to 220 grade C. Mix the herbs, crumbs, salt and olive oil. Brush the Dijon mustard over the fish, season with salt and pepper. Put the herb mix over the fish, pressing slightly. Put the lemons around the fish, splash with a little olive oil and roast it for 15 – 20 minutes. I like salmon medium cooked (15 minutes). Delicious with green salad, spinach or asparagus with butter and lemon.